Student Fume Cupboards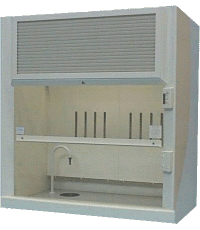 A fully specified yet economical bypass design fume cupboard, of shallow depth to suit standard school joinery, External 1200mm wide x 620mm deep x 1210 mm high.
The Student fume cupboard is distinguished by a shaped spring fit baffle with slots to balance airflow right to the rear of the fume chamber; slim front pillars; and sash counterweight housed behind the rear baffle.
Packaged with a unique in-line centrifugal fan. The
Fumeflow TD250
mounts directly on the duct, eliminating platforms and bends.
Complies with AS/NZS 2243.8:2014

Click here for pdf typical installation drawing

Click here for pdf installation instructions

Click here for pdf user handbook