Smoothflow Fume Cupboards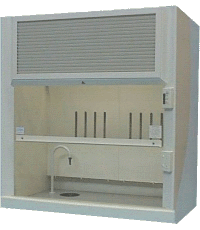 A fully specified fume cupboard design with bypass grille above sash opening. As the sash is lowered, the sash "opens" the bypass grille. More air enters through the high level bypass. Less air flows through the sash opening. High face velocities are avoided.
The Smoothflow profile has been improved through aerodynamic smoke testing. Changes to the grille, roof profile, and baffles, produce a controlled wash of clean air behind the sash.
All servicing is accessible from above or within the fume chamber. Smoothflow Fume Cupboards can be installed side by side

Click here for pdf typical installation drawing

Click here for pdf installation instructions

Click here for pdf user handbook