The Fumeflow TD250
In-line Centrifugal Fume Exhaust Fan is designed to complement Student fume cupboards
.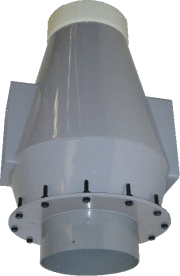 The Fumeflow TD250 is a direct drive bifurcated centrifugal fan. The fan housing is thermo-formed and fabricated from uPVC for optimum chemical resistance. All fixings are stainless steel or chemical and UV resistant plastic.
The injection moulded polypropylene backward curve impeller is non-overloading, and avoids build up of solids. The impeller is dynamically balanced and is direct driven by an alloy frame single phase motor.
The Fumeflow TD250 fan' light weight enables it to mount directly on to the exhaust stack without brackets or bends. It does not require a cowl because the internal shape weathers the lower duct and water drains out through holes in the inlet plate.The exhaust stack extension is simply braced by stainless steel guy wires.
This simplified duct arrangement reduces the capital cost of the Student Package, which includes all necessary installation hardware such as roof flashing, fixings and guy wires.
The Fumeflow TD250 fan is manufactured with an integral speed preset adjustment. It is designed for a specific duty of 250L/sec, to match Student fume cupboards.

Click here
for pdf Fumefow TD250 dimensions and performance

Click here
for pdf Student Package typical installation drawing