Fumeflow 101 Centrifugal Fume Exhaust Fan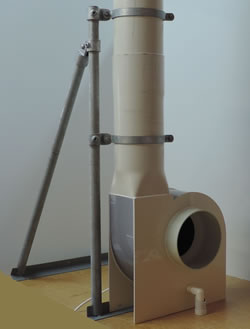 Answers the challenge "to produce the goods at half the price", especially for pacific island schools, and is specifically designed to partner the Student 101 fume cupboard
The fan housing is fabricated from uPVC for chemical resistance.
Panels are precisely cut and fully welded together. All fixings are stainless steel.
Injection moulded backward curve impeller.
The impeller is dynamically balanced and is direct driven by a single phase motor.
Economical to run, only 113W @ 230V.
200mm dia inlet, 150mm dia flue.
Permanent drain with a water seal trap supplied.
Ingenious roof bracket
Adjustable for roof pitch and purlin spacing
Rigid support for both the fan and the flue.
Hot Dip Galvanised.
Easy installation
The Student 101 fume cupboard and Fumeflow 101 fan are supplied complete with duct, flue, and accessories.

Click here
for pdf Student 101 installation instructions