Fumeflow D65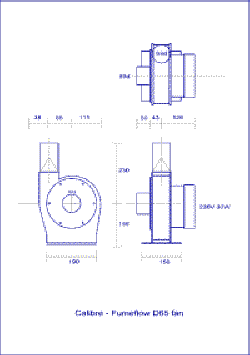 The Fumeflow D65 is specifically designed for ventilating chemical storage cabinets. The motor is out of the airstream, so it is suitable for ventilating a wide range of chemical storage. It is sized to suit 65mm PVC vent pipe.

The fan housing is fabricated from uPVC for optimum chemical resistance. Panels are precisely CNC cut and fully welded together. All fixings are stainless steel or chemical and UV resistant plastic. The fan case is welded to a PVC foot plate.

The radial impeller of bright polished stainless steel is direct driven by a 30W, 230V single phase motor.

We don't have performance tables for this fan, but we can say that when connected to a twin skin metal storage cabinet such as Pratt, in a typical ducted vent situation, it will exhaust 10-12 L/sec - enough for a 250L capacity storage cabinet.